Learn how CTE teachers are successfully implementing blended learning in their classrooms.
Are you interested in trying blended learning, but aren't quite sure how it would work? Read this free whitepaper with 4 major strategies on how to use blended learning in your CTE classroom.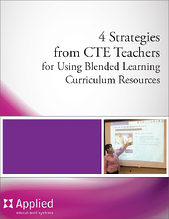 What's included in the whitepaper:
15 pages of strategies to use
10 teachers giving their first-hand input on using blended learning in the CTE classroom
Links to case studies for even more information
To receive your free whitepaper, fill out the form!