Do you want to teach career readiness skills to your business students, but don't know where to start?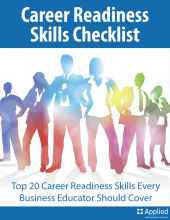 Teaching career readiness and employability skills in your business courses can be tougher than you think. How are you supposed to decide what skills to teach? What if you miss something important?
Our checklist on the Top 20 Career Readiness Skills Every Business Educator Should Cover will help you decide.
Read the checklist to learn what these skills are and why they are so important.
Just fill out the form to start reading and see how many of these important skills YOU cover!